Feel good with the benefits of CBD and the great taste of Pure Bloom! Made from full spectrum, certified organic hemp, nano engineered for improved bioavailability and made with only 4 pure and simple ingredients.

How we used it! Nick likes to take his CBD as his daily multivitamin and keeps it simple with a dropper under his tongue as part of the morning routine, Lyna also does her morning routine but will stop and add a dropper to her coffee or tea as needed pain, anxiety or stress during the day. A 500 mg bottle is great for your daily micro dosing needs or if your looking for a little more relief from pain, stress or anxiety, a 1250 mg bottle is a great place to start!

Pure Bloom makes adding the benefits of CBD easy, with a light fresh mint taste. Just put a dropper full under your tongue, add to your coffee, tea, smoothie or checkout out one of the many recipes at www.getpurebloom.com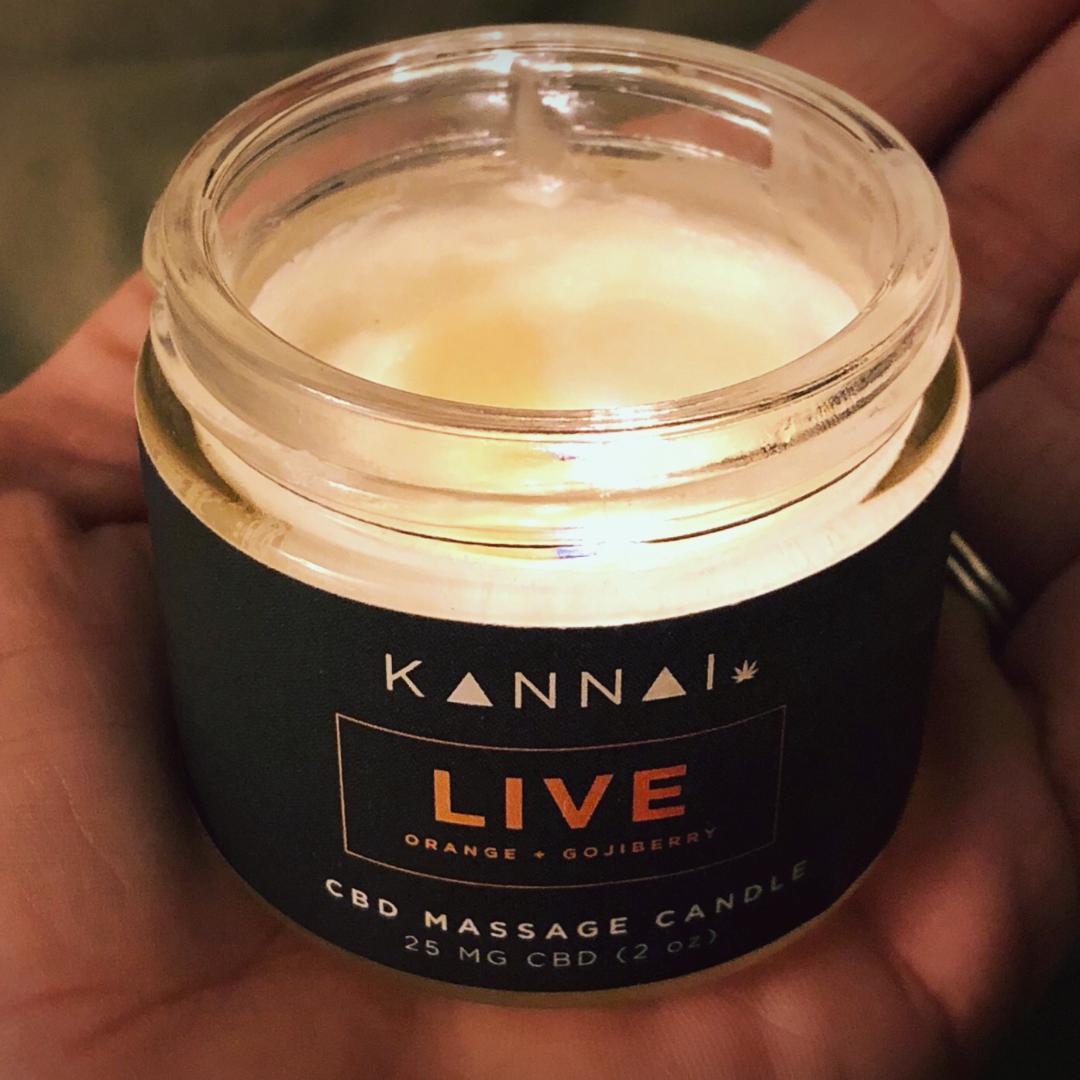 Kannai brings a whole new meaning to "Light It Up!" There's nothing like a good massage to soothe sore muscles, stress, and even anxiety. Now combined that with the perfect blend of essential oils and the pain reducing anti-inflammatory, skin soothing benefits of CBD and you have Kannai! Choose your mood with 3 outrageously amazing scents, Live, Chill or Relax. Light it up, melt, blow, wait 30 seconds and rub where needed! Instant relief and your skin will be left feeling fabulous!!
Learn more www.kannai.store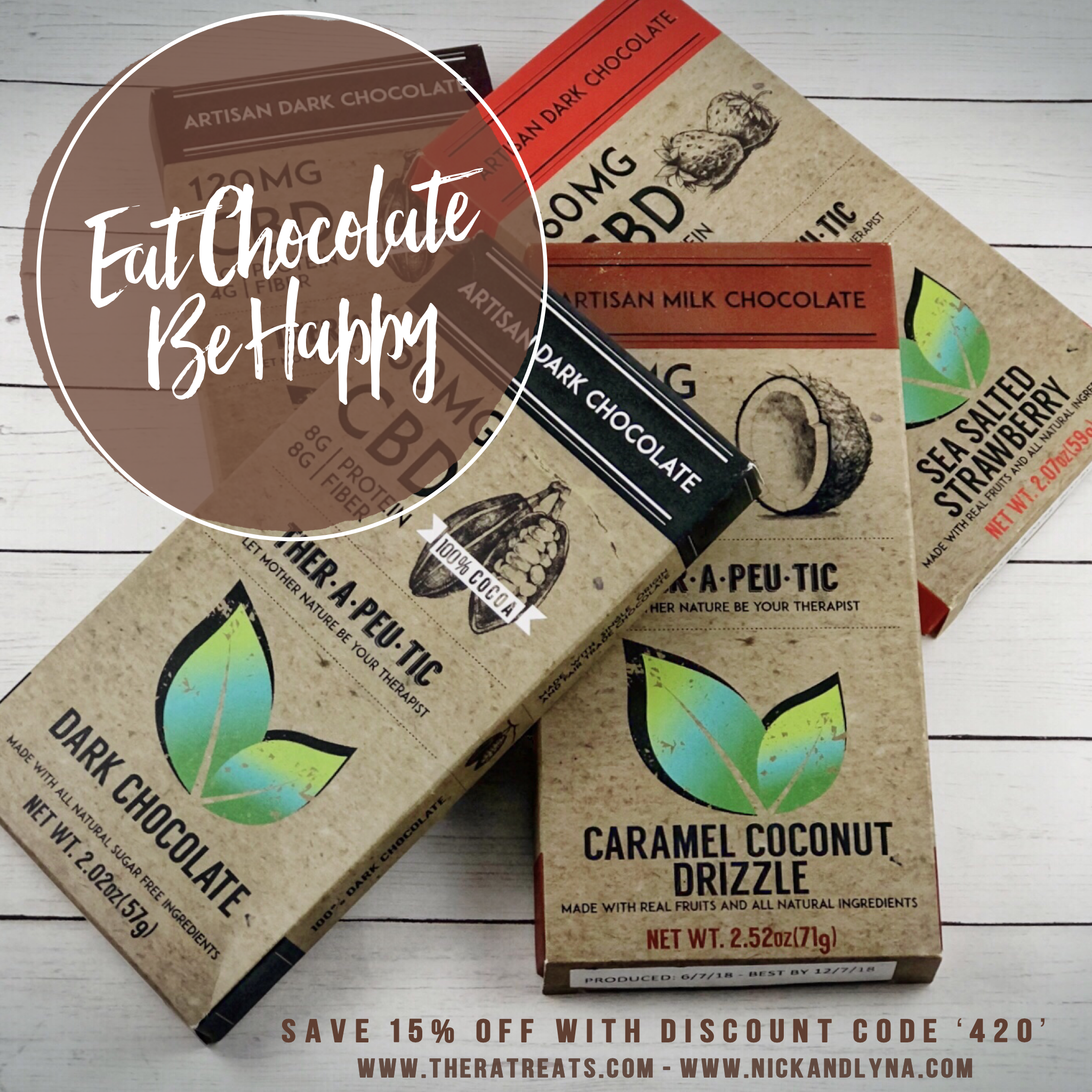 Chocolate lovers rejoice and enjoy the benefits of cocoa and CBD with Therapeutic Treat's and their artisan CBD infused chocolates. Made with all natural, non gmo, certified organic & gluten-free ingredients, Therapeutic Treat's are perfect anytime you need relief from pain, stress, inflammation, anxiety, muscle spasms, or even your sweet tooth! Choose from an amazing selection like Caramel Coconut Drizzle, Dark Chocolate, and our personal favorite the Sea Salt Strawberry with dark chocolate starting at 15 mg's of CBD per serving. But don't just take our word, treat yourself!
Learn more TheraTreats.com
Your skin is the biggest organ on your body and 'Made From Dirt' has made it their mission to ensure you give your skin the care it deserves, with an amazing line of CBD Salve's made from all organic ingredients, free of Paraben, Phthalate, BPA and cruelty.
Using the combined benefits of CBD and other natural ingredients, 'Made From Dirt' is perfect for targeting the areas that need relief the most. Plus all products are lab tested to insure the highest quality and come complete in a child proof jar, making 'Made From Dirt' a must for every medicine cabinet!
Sunflower Salve
The perfect solution for broken, damaged and aging skin. Combining the anti inflammatory and skin soothing properties of Sunflower's with the amazing benefits of CBD, this Salve will have your skin feeling amazing after the first use and have you ready to ditch those drug store creams!
Sleep Balm
Combining the calming effects of chamomile, cedarwood, lavender, and benefits of CBD this Salve is perfect for those nights you need a little relief for a racing mind. Just rub a little on your temples, wrist or even the soles of your feel and let your anxiety melt away!
Lyna Thompson
Learn more madefromdirtorganics.com
Oleo CBD Infused Drink Mixes
Sitting back and relaxing, on the go, hot or cold, Oleo CBD Infused Drink Mixes are an excellent way of giving your body the CBD it needs! Specially formulated to be fast acting, with no artificial colors, sweeteners, or as they say "no questionable ingredients". Plus each mix is COLD water soluble making it simple to use with no chalk or grit like aftertaste. The Rooibos Tea's and Coconut water, have amazing flavor and the Original Mix is unflavored and ready for just about anything from your morning coffee to dessert!!
Lyna Thompson
Learn more Oleolife.com
Looking for relief from joint and muscle pain? Nightingale Remedies CBD Cream is perfect for those everyday pains to the more persistent problems like arthritis. Nightingale is non-greasy with a fabulous smell with the just the right amount of eucalyptus, that doesn't overtake the room and uses the latest in Transdermal Technology to prove effective fast pain relief.
I use Nightingale Remedies CBD Cream on sore muscles, pinched nerves, after yoga, and for my everything aches and pains and it works beautifully to keep me up and moving.
Lyna Thompson
Learn more Nightingale-Remedies.com
Use Code "PODCAST" Save 40%
HIFI Supplements, CBD Recovery 500 mg + BCAA.
Made of CBD (Industrial hemp derived), Amino Acids (Branch Chain Amino Acids) and organic fruit. HiFi CBD Recovery is perfect for everyone ready to add CBD into their wellness routine, with a easy dose of 6 ounces of water and 2 scoops of the mango flavored powder keeps it simple for and without having to consume any large amounts. But it's the flexibly to be creative that got my attention. Why just water? Why not a smoothie, meal replacement shake or even oatmeal. I choose to personalize my experience and test the powder with other flavors and mixed it into a açaí bowl, on fruit and even iced green tea. The flavor was nice and the powder mixed quit well with everything I tried. Never did I notice any after taste or odd artificial flavor.
Whether your a triathlete or the occasional yogi like myself, there's many reasons to add CBD to your wellness routine. CBD is non psychoactive, helps to reduce inflammation, pain, stress, anxiety, muscle spasms, promote better sleep and has shown to help with faster recovery times from injury's.
I recommend HiFi to anyone wanting to add CBD to their own wellness routine and the ability to have flexibly with one product.
Learn more HifiSupplements.com
Whether your looking to start your 420 collection or add some fun to your existing one, SensiBox is a perfect monthly subscription box. Shipped discreetly every month the box is hand curated with new and fun themes for him or her. We currently receive the SensiBox Original for him and her. Each box contains 7 or more items, from amazing glass pieces, 420 tools and unique must haves. Month after month we continue to be impressed by the style and creativity put it each box.
For Him
"Each month my SensiBox comes filled with everything I never knew I wanted, including quality glass."
Nick Thompson
For Her
"I'm always amazed by the style and creativity that goes it each months box."
Lyna Thompson
Learn more SensiBox.com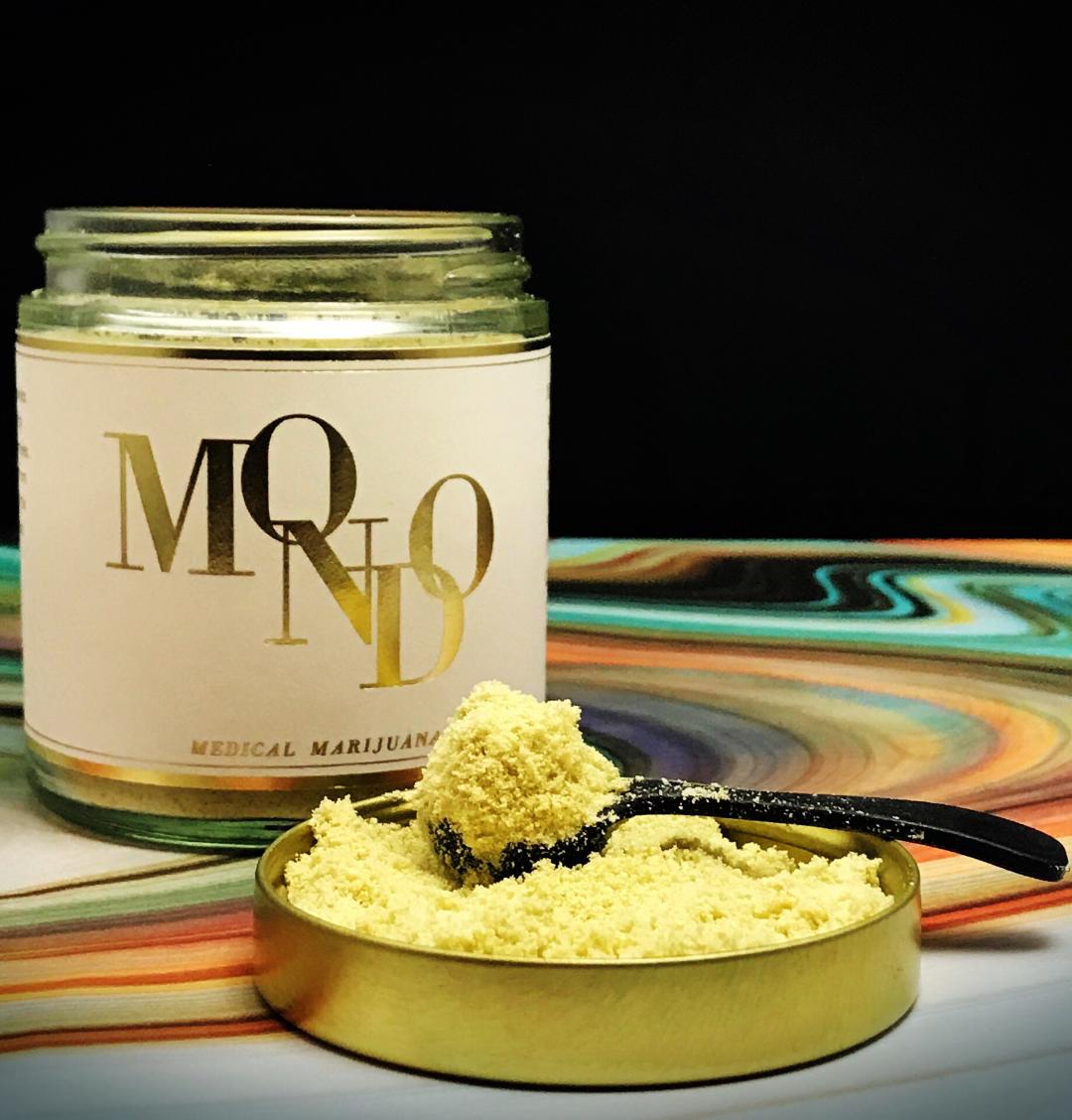 Mondo Med's makes micro dosing simple with an all natural, low calorie cannabis powder that dissolves almost instantly. Mondo is perfect for anyone wanting the benefits of THC without extra calories or sugar, can be added to many of your favorite foods or drinks and is almost tasteless.
But it's not just the versatility that makes us love Mondo. Made strain specific with Blue Dream flower, (our house favorite) helps insure a more constant experience for relief from anxiety and stress. When finding relief for conditions like anxiety, stress or depression it's important to know that different strains of the cannabis plant can have different effects and benefits.
Micro dosing is taking low amounts of THC in order to achieve the medicinal benefits without the psychoactive effects that may interfere with daily activities. The goal is not to get "high" but to aid in the relief from conditions such as anxiety, stress, depression, sleep, fibromyalgia and pain. It's important to note dosing and tolerance levels vary person to person. We recommend starting with 2.5 mg's and go low & slow, until you find what works best.
Learn more MondoMeds.com
Starting with the fun California vibe to the 100% natural flower, Island Cannabis is strain specific, lab tested for quality and safety, then hand packed into Mini's or Premiums preroll's and come in a convenient book fold box. Making everyday feel like a beach day.
Mini's
Island Mini's are made of Blue Dream flower (sativa dominate hybrid) and packed in 100% hemp paper. These classic mini's are perfect for a solo sesh, or even someone looking to smoke a "j" for the first time, giving you as they say "everything you want and all you need" and we could not agree more.
Premium's
Island Premium's are a perfect blend of old world smoking and modern cannabis. Made with Black Cherry (indica dominate hybrid), these filtered hemp tubes are light, smooth, and easy to smoke anytime your looking to unwind and relax. We think this is definitely one smoking experience everyone could and should enjoy.
Nick and Lyna Thompson
Learn more islandcannibisco.com
Eel River Organics is an excellent choice for the cannabis consumer of all levels looking to enjoy a vape experience. We had the pleasure of trying multiple cartridges (Time Machine, The Doctor, Farmers Choice and Charlotte's Web) all made with single strain, 100% pure cannabis, clear distillates from whole flower organically dry farmed without irrigation, pesticides or herbicides in Humboldt County, California.
Puff after puff we were quit impressed with the simple and sleek buttonless pen style battery. Making a easy vape experience for users of all levels, taking all the guess work out. The cartridges have a strong seal with no leaks and are solvent and additive free. But it was the medicinal grade strain choices that wowed us the most. There's something for everyone, with strains best for the day or night time. Multiple choices of THC/CBD ratios.
We highly recommend Eel River Organic's. It's a perfect choice for pain management on the go, with great flavor profiles and excellent battery life.
Nick and Lyna Thompson
Learn more EelRiverOrganics.com
When used topically the Cannabinoids in Cannabis bind to different receptors on our body's and stay local to the area applied, offering many benefits from skin care to pain relief. Combining the healing powers of Cannabis with natural organic ingredients, Kiskanu has created a unique line of luxurious products, with health and wellness in mind.
CANNABIS FACE OIL
This rich and luxurious oil absorbs quickly and my skin instantly feels smooth and hydrated. Combining key ingredients high in Vitamins A & E and antioxidants, like Rose Geranium, Calendula, and Wild Carrot with THC and THCA to help fight against aging, stress, inflammation, anxiety and even acne.
The more I use Kiskanu, the more it love it! After just one week I dramatically noticed my adult acne start to clear, with no new outbreaks. Kiskanu is a must in my face care routine. I even apply a little on "no-makeup" days for a added glow!
SENSUAL CANNABIS LUBRICANT
Beyond the your basic sensual lubricant, Kiskanu uses Calendula, as a key ingredient along with cold-pressed virgin coconut oil, THC and THCA, making it safe for those sensitive areas. Plus this lubricant can be used as a whole body message oil. Perfect after a long stressful day. I use it for relief for muscle inflammation and soreness. Leaving my skin feeling super soft and hydrated.
CANNABIS SUPPOSITORIES
Yes, Cannabis suppositories! It may seem crazy but did you know it's an excellent way to deliver high amounts of THC into your body without a extreme psychoactive effects, since this method bypasses the liver and absorbed mainly by blood vessels in the rectum and vagina. Using the suppository method can provide great relief from cramps, lower back and hit pain to digestive track issues. I suffer from daily hip and lower back pain and this type of pain relief is like no other!
Lyna Thompson
Learn more Kiskanu.com